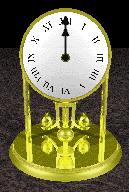 Welcome to the Atlanta, GA Chapter 24 of the National Association of Watch and Clock Collectors (NAWCC). Our group is interested in all facets of time-keeping and time-keepers. Our meetings, generally held on the first Sunday of even months, feature topics of interest to clock and watch enthusiasts. Each meeting includes buying, trading, and selling of horological equipment, and a lecture or workshop dealing with timekeeping.
Our Chapter is also one of the hosts of the Mid-South Regional, held in Chattanooga, TN, each Labor Day weekend. Enthusiasts get together to buy, sell, trade, and learn about timepieces.
We are also active in the cataloging and maintenance of timepieces that are the property of the State of Georgia. See the timepieces and their locations here
Membership in the National organization (NAWCC) is a requirement to join any Chapter. A National membership allows attendance at the Regional and National Conventions, as well as provides informative Bulletins and exciting Mart publications. Membership in the Chapter allows free entry into Chapter meetings, and receipt of the Chapter Newsletter.
A volunteer group from the Chapter meet weekly at Berkmar High School to teach anyone interested in learning to repair antique clocks. See the Tuesday Night Clock Group page for more information.
If you have any questions about our Chapter or organization, please feel free to contact the webmaster at this email address.